plan de l'aiguille
Yesterday my friends and I started hiking in the Alps next to Chamonix, France. We had already visited the Aiguille du Midi via a very fast cable car. It takes you up more vertical distance than any other cable car in the world (from 1,000 meters to 3,842 meters; which is about 3,200 feet to 12,600 feet) a 2,800 meter ascent (over 9,000 feet). This is the closest you can get to Mont Blanc without climbing up to its summit. About halfway up the cable car way, a hiking trail crosses the cable car path. That is the trail that we decided to take yesterday.
While we were ascending on our own, using our feet, we could look back and see some beautiful views of Chamonix, where we started.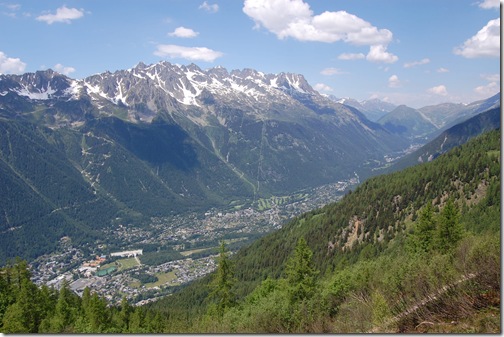 We started at 1,000 meters and got to 2,300 meters at our highest altitude (3,200 feet to 7,200 feet). This was an ascent of over 1,300 meters (over 4,200 feet) by foot. Frankly, it was steep.
Flies and other various insects started to hang on to us as we were getting through the deep forest. Once we broke through the tree line, they decided to give up and stopped following. Some very rocky terrain ensued with large boulders and sometimes we were climbing up rocks to get to the next step. After reaching the Plan de l'Aiguille hut, at the peak of our hike, we were rewarded with some gorgeous views which included a giant glacier, Le Glacier des Boissons.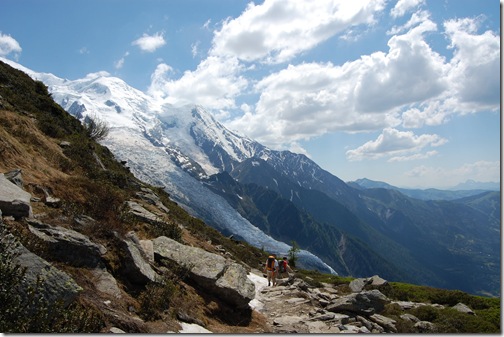 On our way down, we decided to take a detour and see the Cascade du Dard waterfall, which gave us a nice breeze.
It was the hardest hike yet, but was also the most rewarding. Now that we are back in Geneva, Switzerland, we will be getting a good night's rest and heading to Tanzania by way of Qatar tomorrow. Then the real hiking begins, I know.