2 am, chamonix
I know I have been remiss not to post in so long. The long and short of it is that I have been very busy, barely able to make time for myself, but in that time I have prepared for the Kilimanjaro trip and been pretty much slammed at work.
Two days ago, I left that work to do something I have never done, and that is to go far far away from the places I knew. Not like the Bahamas where I went when I was a teenager, but really far... like France. So today I'm in France. Here's how I got here.
Some of my friends and family (you) know that I have been raising money for VSO, a charity organization based in the UK, and will be climbing Mt. Kilimanjaro in about a week as part of that involvement. Their AIDS education efforts in eastern Africa are being aided by the money that I raised.
My friends and I decided to participate in this VSO thing together, so we raised money together over the past several months, and donated a lot. We also trained for the climb quite a bit. As we were planning, we said to ourselves "Selves, wouldn't it be sweet to stop in France on the way to Tanzania and hike in the Alps?" to which we replied "Duh. Yes." and we booked our flights. So here's what the trip looks like...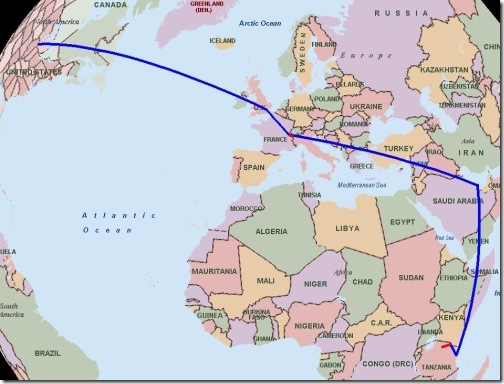 The blue lines are in the air. The red lines are on the ground. Basically it is... Chicago to London, Geneva, then Chamonix (France), hike in the Alps, return to Geneva, Geneva to Doha (Quatar), Dar es Salaam (Tanzania), then Kilimanjaro, climb up, climb down, safari... return to Dar, Doha, London, Chicago.
It is a three week trip. I am currently 2 hours into day 3 (since it is a little past 2 am right now), our first night in Chamonix, France. I will try to update more during the trip. Goodnight.