love is hell
Since the last time I posted, summer, fall, and winter happened. To sum it all up... I worked, became a step-uncle and a standard uncle, took a great trip to California over new years, won a little Rock Band competition with my friends at work (here are the youtube videos of
Cherub Rock
and
(Don't Fear) the Reaper
), and got a lot of toys and good music. Life could be a whole lot worse.
Here's what this post is really about: Some of you know that I am a music fanatic. I buy new music all the time and I've decided to share some of the stuff I find right here. I'm going to start with one of the best records I've heard in at least a year.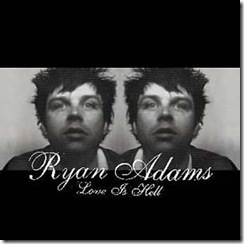 As his wikipedia article clearly states "not to be confused with Bryan Adams", you know, Anything I Do (I Do It For You), Summer of '69, etc? Well, he's not that guy, and he may overreact if someone forgets it. So who is he then? Well, even though he is not to be confused with Bryan Adams, he is also Canadian. (I have really enjoyed the Canadian music I have found so far, more on that in the future.) He has really broken through with his latest full-length album, Easy Tiger. Anybody who peruses myspace and/or trades random songs with their friends on the net may have run across his excellent cover of Oasis' Wonderwall. But, getting to the point, he is americana and alt-country rock. His songs are mostly quite relaxed and rich with normal instruments like piano and guitars with an occasional tremolo effect. He is believable and memorable with a raspy vocal style that sounds good wet.
Let's get to the Love Is Hell album. I love the slow steady rhythm of these low-key, melancholy, and depressing songs. It's dreary for damn sure, and I love that. The album really sets into this mode on the second track Afraid Not Scared which makes you feel like you're floating in space, similar to the mood of Aimee Mann's record, Lost In Space, but even more depressing, if you can imagine. The sweet redundancy of This House Is Not For Sale and World War 24 make me wish these songs lasted at least 8 minutes. He picks up the pace with Anybody Want To Take Me Home and Love Is Hell but then hits that sweet and simple stripped-down Wonderwall cover. Worth noting on this song is a modified melody that gives it a memorable creepy vibe. Finally, The Shadowlands is a perfect example of a slow burn buildup to many layers of sound, all enhancing the relaxed mood; a microcosm of the whole album's effect, I think.
The rest of his records just aren't like this one. (The closest is Cold Roses, I think.) They're less dreary, but still great. If you like this one, I would move on to Cold Roses, Easy Tiger, and his latest EP, Follow the Lights, which includes an awesome cover of Alice in Chains' Down In a Hole.
Ear Candy Moments are... the naked Wonderwall cover, all of it; the slow burn of The Shadowlands; World War 24's perfect melancholy mood; and the vocal melody of My Blue Manhattan.